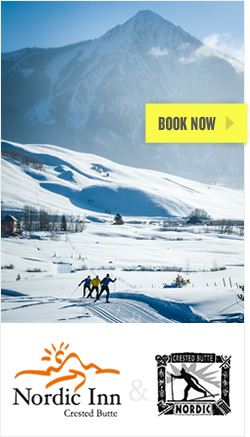 Corner of 2nd & Whiterock
Crested Butte, CO 81224
(970) 349-1707


View location on a map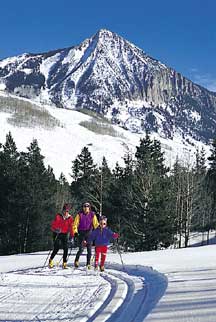 The Crested Butte Nordic Ski, Snowshoe and Ice Skating Center is located at Big Mine Park (2nd Street & Whiterock Ave). Our groomed trails meander around the outskirts of this quaint Victorian mining town and National Historic District. We're in walking distance from almost anywhere in town and the free shuttle/bus stops outside our door.

Click here to visit our web site at cbnordic.org

There's no reason to leave the kids behind - cross-country skiing is a family oriented activity. The Crested Butte Nordic Center is a full service cross-country center providing complete rental packages for skate and classical skiing, as well as ice skating and snowshoeing. Our friendly Nordic Ski School instructors teach skiers of all abilities and ages on gentle terrain. A lesson is the fastest way to get you and your family on the right track and enhance your cross-country skiing experience.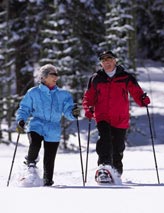 The romantic ambiance of the town and the awesome scenery will inspire you while gliding across the terrain on the Bench or the Red Lady Loops. Skiers and snowshoers who visit us choose to ski trails at a slow pace, taking time to enjoy the sights. Others challenge themselves in the Alley Loop race through downtown Crested Butte. Kids can participate in our Fun Ski and Kid's Ski Team Programs offered after school and on weekends.

Trail Sense-About 25-40 km of trails are marked and maintained daily for classical and skate skiing. All of our groomed trails are on private property. Please help us keep trails open by being responsible and not littering. Stay on the marked trails at all times and absolutely NO dogs are allowed on the trails. Take it easy until you become acclimatized to the high altitude. Remember to apply sunscreen and drink plenty of water. Have fun!!!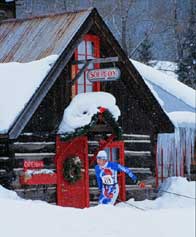 Trail Fees A trail pass is required on all groomed trails. Trail passes may be purchased at the Center. Your trail fees help pay for grooming equipment and maintenance.
Season Passes are available.
Nordic Ski School The Ski School features a friendly, professional staff of instructors for skiers of all ages and abilities.

Ice Skating and Sledding
Ice skating is free! Please call the ice rink hotline for rink schedule (970) 349-0974. Skate rentals are available.

The sledding hill is free and is located at the Nordic Center/Warming House. Sleds are available for check out at no charge.

Tour the Backcountry
If you are hearing the call of the wild and want to get away from it all, we offer interpretive backcountry half day and full day tours. Guides are trained naturalists to help you learn more about the area's geology and wildlife as you enjoy the beauty. The Nordic Council is a USFS Permittee.

Half day (3 hour) and full day (6 hour) xc ski or snowshoe tours are offered daily and include guide services and transportation. Full day tours include lunch. Minimum of 2 people or individual surcharge applies; group discount available. Ski and snowshoe rentals available at discount. Reservations required by 5 pm day prior to tour. Call or come by for info. and reservations. All tours on moderate, backcountry trails.


Backcountry Hut Trip
The Nordic Council books reservations for the Forest Queen Hut in Gothic. The hut is a 4 mile one way ski trip on moderate terrain. Depending on snow conditions, there are sections of potential avalanche hazard. The Forest Queen Hut sleeps 7, has electricity, a stove, refrigerator, cooking utensils, outdoor toilets, and chopped wood for the wood stove. Renters must supply their own sleeping bag, food, etc. Reservations are required, call us for availability.


Our Heritage
The CB Nordic Council, a non-profit organization established in 1987, operates the Nordic Center and maintains the trail grooming equipment. Our trail system is the result of impressive volunteer efforts and funding from local government agencies, businesses, individual patrons, trail passes, and memberships. The Nordic Council and nordic skiers gratefully acknowledge local homeowners and ranchers who allow access across private property. The development of new nordic trails and maintenance of existing trails is dependent upon a respect for private land owners and wild lands. We gratefully acknowledge the following landowners, associations, and ranchers for allowing nordic access across their lands:

Jeffrey Hermanson, Barbara & Robert Lee, Mirams Family Trust, Connie & Michael Maxsenti, Sam Wolf, Phyllis Cowell, Town of Crested Butte, Sterling & Melinda Doster, Jim & Rosie Gebhart, Doug & Karen Huber, Nita Kubricht, Dr Charles & Marilyn Rabinowitz, Thomas W. Sisson, David Wolf Trustee, Crested Corp / US Energy, Judy McGill, Crested Butte Land Trust, Trappers Crossing, Lisa Roberts, Bill Lacy / Daniel Dow, and Robert & Suzanne Schutt.

The Crested Butte Nordic Council is a non-profit 501c3 corporation. Tax deductible contributions may be sent to PO Box 1269, Crested Butte, CO 81224.
Activities Related to Crested Butte Nordic Center