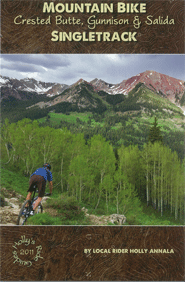 PO Box 2401
Crested Butte, CO 81224
(970) 349-1321


Crested Butte, Gunnison and Salida offer some of the best mountain biking found anywhere, and this is the locals' guide to the singletracks you want to ride! From smooth beginner rides to high altitude epic adventures, there is something here for every mountain biker. Experience narrow singletrack, excelllent climbs, fast descents, granite slicrock and technical riding. Enjoy breathtaking views and wildflowers up to your handlebars on uncrowded trails. Discover many new trails with the revised edition. This book includes all the classics from Mountain Bike Crested Butte Singletrack an Hartman Rocks in Gunnison, and 20 new rides. Trails 401, 403, Deer Creek, Lupine Trail, Strand, The Lower Loop, Hartman Rocks, Snodgrass, Reno-Flag-Bear, Teocalli Ridge, The Crest Trail, Rainbow Trail, Canyon Creek, Double Top, CDT and Camp Trail in lake City, Lower Spring Creek in Montrose, and more rides detailed in this guide. A full color section of photos tempts you and helps you remember each ride. Each ride includes a new topo map as well. It fits right in your camelbak so you can take it with you! Look for Mountain Bike Crested Butte, Gunnison and Salida Singletrack in local bike and book shops or order from the Crested Butte Mountain Bike Association's website!

UPDATED 2015 EDITION:

54 Singletrack Loop Descriptions

New, Easier to Read Individual Maps & Updated Trail Descriptions

Options to Lengthen, Shorten & Connect Rides

Camping

Great Places to Stay, Eat & Play

Local Bike Shops & Guide Services

Feel free to write to me at the above email address with questions about trails and conditions. Visit Crested Butte Mountain Bike Association's website to order one.

Also check Amazon for all of Holly's books including new Mountain Bike Durango, Cortez, Dolores and Rico Singletrack!
Activities Related to Holly's Ride Guide: Crested Butte Singletrack